The road to trace samurai culture in Kai Region
Chichibu Okan road is a mountain pass with fog, clouds and mist held by scenic sites full of nature. Along the pass, we see the traces of Takeda Clan (Genji) in the Kai Region and history and culture supported and passed down by those samurai.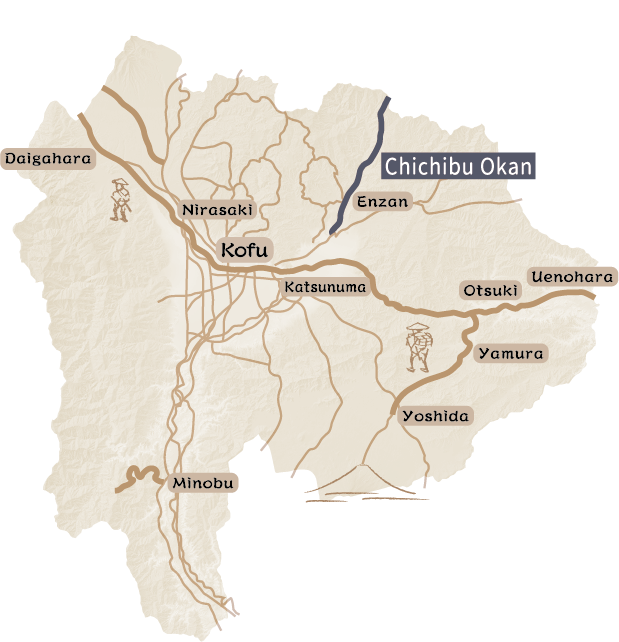 The Chichibu Okan Road is a historic road connecting the Kai Region and the Musashi Region, which are present-day Yamanashi Prefecture and Chichibu City, Saitama Prefecture. Since it is on the border of two prefectures and beyond the Karisaka Pass, it was also called Karisaka-guchi or Karisaka-ji. Chichibu Okan and National Route 140 overlap, and it is easy to find national routes signs with "Karisaka-michi." From the three-way intersection at Yamasaki, which is the starting point in Kofu City, to Kobaranishi intersection in Yamanashi City and the Oume-kaido Road overlap. The Chichibu Okan Road continues gently skirts the mountains until Fuefuki City. After entering Yamanashi City, the road runs north along the Fuefuki River, increasing in elevation toward the massif of the Oku-chichibu Mountains. The highest point, the Karisaka Pass, was known as a dangerous spot described as having no houses about 30 km above and below the pass, and a section where cows and horses could not pass because the road was very rough and narrow.
According to a legend, in olden times, Yamato-Takeru-no-Mikoto followed this road from Sakaorimiya on his expedition to the east toward Chichibu. In the medieval period, the road enabled military functions such as the placement of a fire beacon platforms for communication along the road. In and after the modern period, people and goods moved along the road. It was also used to visit Mitsumine-jinja Shrine and Chichibu Kannnon Reijo from the Kai Region, and Mt. Minobu, Mt. Fuji, and Ise from Chichibu for religious purposes. Around the Chichibu Okan Road that connected the flatlands and mountains, and there remains a wide range of traces from the past, treating visitors to the area's deep nature and long history.